We are a Pet Styling award winning pet grooming salon where we offer full service professional grooming, daycare and hotel services of the highest quality at fabulous prices; At Barker's Lane we understand that your best friend needs grooming which many times becomes a difficult task due to your busy work schedule, that's why our focus is to make your four legged family member look and feel glamorous as we put all our attention and dedication to make Barker's Lane quickly become one of the favorite places for your pet and yours.
A place where they will always be our best friends!
If today is your furry best friend's birthday, come claim a complimentary bath for them
Two warm & relaxing baths.
Refreshing facial applied with facial massage.
Blowdry And brushout.
Ear check, cleaning and hair removal (if needed).
Clipping of nails (nail filing can be done with an extra charge).
Anal gland expression.
Top of the line salon products.
Bow or bandana with perfume or cologne (optional).
Includes every service listed in the Basic.
Fresh face cleanup, hair is trimmed around the eye & mouth areas.
Doggy brazilian bikini trim, hair is trimmed away from the private part areas.
All 4 paws are neatly trimmed and hair is also trimmed away from the paw pads to prevent slippage & fungus growth.
Includes every service listed in the Basic.
Complete haircut… hair is cut and styled from the entire.
Hair cuts can be breed specific or a custonized style.
Dematting can be performed at an additional, hourly charge.
Barker´s Lane does reserve the right to refuse any services that we feel are unsafe for your fur baby.
First experience here and all i can say are great things about this place! The people are extremely nice and the groomer was very sweet and honest! I was very nervous to take my dog to the groomers for the first time i have a mini goldendoodle and wanted to find somewhere i can trust and here i have no doubts i'm very pleased and my dog Nala absolutely loves it there! Thank you barkers lane We will be back
Soraya Lopez
My entire family has been taking our dogs here for years: golden retrievers, labrador retriever, shih tzu, and coton de tulear. Julie's grooming skills are elite, our dogs have always felt extremely comfortable. She is honest about the behavior of your dogs, and does her best to educate you on the best grooming practices. She truly cares for each dog that walks through her doors, I will always recommend her the highest possible!
Kaleigh Brennan
GREAT !! GREATER!! GREATEST!! You want the Best pampering like your pet is in a salon setting ? Go to this wonderful groomer and I promise you wont go anywhere else ..Julie and her team are amazing ! If you want something cheap and fast dont go because Julie is a perfectionist at what she does and truly she loves her job and truly is passionate about all her furry friends....
Shane
Incredible place for my dog's haircut. Julie is great always willing to accommodate with scheduling or anything that comes up. My two little guys have always left with a glowing smile and a beautiful cut. If you're looking for a great place to take your dog for a grooming look no further..
Jorge Jhones
I moved to Davie from Miami where I had been using a very well known groomer for years and was concerned about finding one with the same expertise and love for pets. I have been taking my almost 15 year old Maltese Lyla for now two months to Barker's Lane and I couldn't be happier. High quality work, punctual service and most importantly my Lyla isn't overly stressed or anxious. She is a puppy mill and a cancer survivor and deserves the best life - one she didn't have for her first 8 years. Thank you Barker's Lane, from the bottom of my heart.
Lavinia C
America's coolest stores 2019
awarded by Pets
Best Pet Groomer 2019
awarded by Davie
Best Pet groomer 2020
awarded by Davie
Our city Best of Davie 2021
awarded by Davie
2021 Neighborhood favorite
Awarded by nextdoor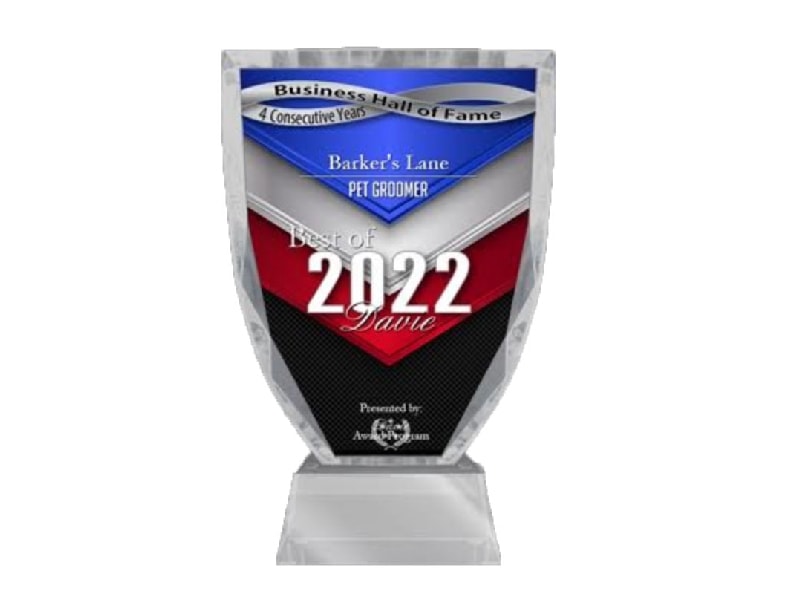 Best pet groomer 2022
awarded by Davie